WCF-Davos|Prague - EUROPEAN SESSION
Fri
October 4, 2013
, from 9:00 AM to 9:00 PM
WCF Davos | Prague - European Session
Communications Professionals 3.0: Changes & Challenges in the PR
Fostering collaboration and practice-exchange in European PR-&-Comms
Developing competitive advantages of the EU markets and PR community
You are welcome! > Vítejte v Praze!
partners@forumdavos.com
Event details
For invoice and arrangement of bank transfer refer to: partners@forumdavos.com!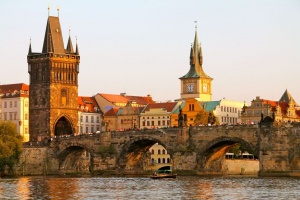 WCF Davos | Prague
First European Session
World Communication Forum
"Communication on TOP"
Global summit in Davos, Switzerland
WCF-Davos > European Session
Prague, 4th October, 2013
Focus on:
Communication Professional 3.0
Changes & Challenges
PRs in today's rapidly altering world
Join an exceptional agenda and dive into the beauty of ancient Prague!
Interactive discussions, fresh insight and unique sessions with:
Outstanding Speakers
Paul Holmes, the PR guru worldwide, founder of Holmes Report and SABRE awards,
Dr. Leandro Herrero, author of the "Viral Change" best-seller,
James Gillies, Head of Communications at CERN,
Andre Manning, Vice President Corporate Communications at Royal Philips Electronics,
and other top-experts will reveal key trends in today's corporate comms.
Intensive networking and fruitful business-oriented opportunities for all participants!
Why Prague?
One of the hubs of European cultures, the picturesque capital of the Czech Republic offers top travelling experience and excellent ground for cooperation between corporate PR Directors and leading PR agencies.
WCF's European Session in October
Opportunity to foster collaboration and exchange of best practicies within the European PR and Communications industry, to develop strong competitive advantages of the EU markets and PR community globally.
Vítejte v Praze!
NB! > 10% discount (Registration Only) for partner-association members!
Registration terms: http://www.forumdavos.com/reg_registration/2
For more details: partners@forumdavos.com