Live interaction with Evenium ConnexMe:

allow participants to contribute actively and network easily

A mobile application designed for your guests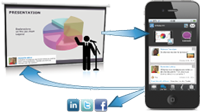 1. Contribute and share in real time
View slides live on smartphones
Questions and comments can be posted instantly onto the main screen
Instant sharing on social networks
Send surveys and questionnaires to guests without having to rent voting keypads. Results appear instantly on the main screen.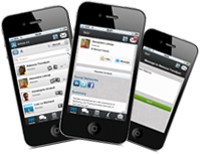 2. Meet the right people
Who are the other people? How do you break the ice? 
Search through the guest list to view individual profiles and mutual connections. More opportunities to build your network!
Link your social networks to the app to find out who you might already know as well as your mutual connections on Facebook, LinkedIn and Twitter.
Send private messages and schedule meetings
On your "Personal Summary" page, "like" profiles, slides, comments, etc.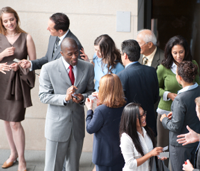 Instant feedback for speakers and presenters
Instant feedback and answers to surveys allow speakers to adapt their presentations on the spot depending on the audience's opinions.
Opportunities for sponsors
Great opportunities to get in touch with experienced people in your field of interest.